Bio | Jackie Alpers | Food Photography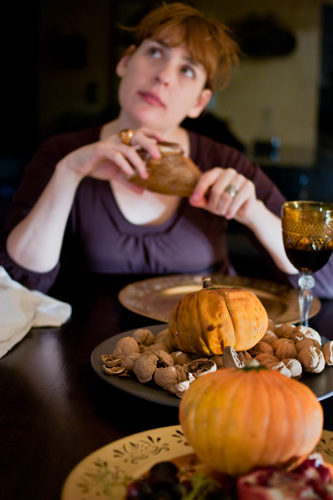 Jackie Alpers is a Tucson, Arizona based, award winning professional photographer, and author of Sprinkles!: Recipes and Ideas for Rainbowlicious Desserts. She specializes in documenting people, culture and food related themes for commercial advertising and editorial assignments; cookbooks and book jackets.
She is especially interested in the emotional, psychological and spiritual relationship that people have with food and drink. Food lends itself to vast symbolism and interpretation and she loves the rituals surrounding it.
Her clients include: Random House, Knopf, Simon & Schuster, The Globe Pequot Press, Quirk Books, Sterling Publishing, Rovio Entertainment (creator of the Angry Birds franchise), Canyon Ranch, Arizona Tourism, Loews Hotels, NBC/Universal, Epicurious.com, AARP Magazine and The U.S. White House.
She is the recipient of numerous awards from American Photography, The Photographer's Master Cup, ASMP and the International Photography Awards (Lucie's). In 2004 she received the the Black & White Spider Award's, Merit of Excellence, and in 2001 she was awarded a bronze medal from the London Photographic Awards.
Her book project, Angry Birds; Bad Piggies' Egg Recipes, won "Best First Cookbook in the World" at the 2011 Gourmand Cookbook Awards. The Bad Piggies Best Egg Recipes app, released in October, 2012, which she photographed and edited, is the best selling cookbook app in the USA, China and numerous other countries.
She is also an experienced educator who speaks on industry related topics at workshops and universities.
To contact Jackie in regards to commercial assignment bookings, please email: Jackie@jackiealpers.com or call 520-749-1949.
View her editorial, advertising and fine art photography portfolio at her official website.
Bibliography/Contributions 
2013-2014: Food Network – Contributing writer and photographer
2013-2014  iVillage – Contributing writer and photographer
2013 Sprinkles!: Recipes & Ideas for Rainbowlicious Desserts – Author & Photographer, Release Date 10-15-2013
2013 foodprint 1113: European Annual of Gastronomy
2013- 2012 Bad Piggies Best Egg Recipes Cookbook app – Photographer & Production Editor (Bestselling Cookbook App in the USA and China)
2013 Broadway & Thresher – Contributing Editor, Food & Drink
2012 Reader's Digest, "Top Photographers Choose the Pictures That Make Them Happy
2012 Good Morning America, "Decadent Foods From Across the USA"
2012 foodprint 1112: European Annual of Gastronomy
2012 Tucson Official Visitors Guide
2011 Angry Birds: Bad Piggies' Egg Recipes, hardcover edition – Production Editor (Winner "Best First Cookbook in the World" at the Gourmand Cookbook Awards)
2011  Phoenix Official Visitors Guide
2010 Tag Magazine #2, The Body Issue
2010 The Official Arizona State Visitor's Guide
2010  Mexican Cooking, Globe Pequot Press
2010  The Calorie Counter Cookbook, Globe Pequot Press
2010  Knack Low Salt Cooking, Globe Pequot Press
2009  A History of Ghosts – cover photograph
2009  Vanilla Ride, Knopf – cover photograph
2008  Tucson Weekly – Interview
2008  Supergirls Speak Out: Inside the Secret Crisis of Overachieving Girls, Simon &  Schuster, Cover Photograph
2008  American Photography 24
2008  The World's a Mom: Celebrating Motherhood, Sterling Publishing, Author & Photo Editor
2007  American Photography 23
2007  Heartsick, St. Martin's Minotaur, Cover Photograph
2007  How Magazine – Interview
2007  Area of Design – Interview
2006  Pesach for the Rest of Us, Random House, Cover Photography
2006  F-shop Magazine, Cover and Feature Article
2006  Creatively Self Employed, Contributing Writer
2005  Photo District News – Interview
2004  Arizona 24/7, contributing Photography
2001  The Photo Review, Volume 24, Issue 3. Langhorne, PA
1998  Water Marked by Helen Lee, Scribner Books, Cover photography
1997  Unearned Pleasures & Other Short Stories by Ursula Hegi, Simon & Schuster,   Cover photography
Exhibitions

2009  The Spirit World, New Orleans Photo Alliance Gallery, Juror Russell Joslin
2009  Idea of Self, Center for Fine Art Photography, Juror Susan Zadeh
2008  Society of Photographers, 6×6 Exhibition, Rooke Gallery, South Africa
2007  The Center for Fine Art Photography, Denver Int. Airport Invitational
2007  Volitant Gallery, Austin, "Tunnel Vision: Parading Down the Aisle
2005  Caladan Gallery, "Myths, Mystery and Ritual: A Portal into the Night"
2004  The Nocturnes, Best of the Nocturnes
2003  The Nocturnes, Surrealism Show, Honorable Mention
2003  Texas Photographic Society, Members Only Show
2002  MetroForm Limited, Tucson, AZ, Solo Exhibition
2002  River City Silver, San Antonio, TX
2002  Inside Space, London, England
2002  Nexus Gallery, New York City, NY, "Photography 2002"
2001  Mesa Contemporary Arts, AZ, "Stare Photographic Survey", Purchase Award
2001  Robert Caniga Gallery, Eugene OR. "Totally Nude" Group Exhibition